Commercial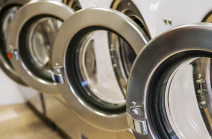 We pick up and deliver commercial laundry and dry cleaning to businesses in Akron, Canton, Youngstown and surrounding communities.
WashClub Akron is dedicated to providing your business with clean and fresh laundry. Keeping up with in-house laundry can be exhausting and drain employee's time and company resources. Our facilities are equipped to handle light commercial laundry - specifically towel, medical and uniform laundry services.
Businesses that use towels, medical scrubs, blankets, sheets, and even tablecloths on a daily basis understand that most of these items need to be washed after each and every use. If you are finding it's difficult for your business to keep up, WashClub's laundry services may be the solution.
Just like our residential wash and fold services, getting clean laundry is easy. First, schedule your free pick-up and delivery times. Our team will pick up your laundry at your place of business.
At WashClub Akron, we are committed to clean. This means that all of your laundry will be sorted, treated, washed and folded with care. We only use premium name-brand commercial products because they clean better and don't leave allergens behind. And, we promise not to mix your commercial loads with any others - separate customers, separate loads!
After your order is laundered and dried, the items are then folded or hung, wrapped in protective plastic and delivered back to your business.